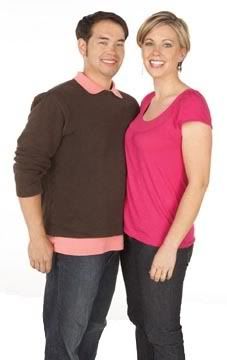 I am really saddened by the news that both Jon and Kate are
allegedly
are having affairs on each other. Are they so encompassed by fame that they have forgotten the original meaning of Jon and Kate plus 8? What happened to just videotaping the kids doing funny stuff. I don't know the true story or what is really going on, but something is.
Frankly I am not surprised.
I am a fan of the show, because I think the kids are cute, and Jon is funny.

But Kate is a whole other story.
The way that she talks to her husband on almost every occasion that they are together is just really disgusting. It makes me cringe, because that is no way to talk to your husband. I have never talk to my husband with that malicious tone, and make him feel like the worst person in the world.
But I know wives who do. and they think its ok. But that is only because their husbands let them. My husband is the person that I look to with the most respect and love.
Yes he may make bad decisions, and I may yell at him.
But sometimes I make bad decisions and he yells at me.
In the end we apologize to each other. I have never once seen Kate or Jon apologize to each other. Maybe I missed that episode.
I have only been married a year and a half, and I am no relationship expert. But I treat my husband with kindness and love most of the time. Sometimes I forget how great he is.
We have a great relationship.
When I see wives treat their husbands like crap, I just want to kiss, hug, and love my husband even more. I know that if I do that he will never leave me for a 23 year old.